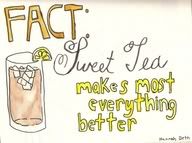 Okay, so I have been blogging for almost a year now and I have yet to post my sweet tea recipe. Actually, I just really didn't like the pitcher I owned so I finally got a decent one so I figured it was picture worthy. ha ha. Anyway...growing up down south, sweet tea is a staple in every home and restaurant. No powdered crapola here! There's nothing more refreshing than an ice cold glass of freshly brewed southern sweet tea! If you want to know a great recipe, here ya go...super easy and delicious! We make a pitcher of this every single day...like I said, it's a staple in every southern home. Enjoy!
For 2 quart pitcher (1/2 gallon):
2 Lipton Family size tea bags
1 qt water
ice cubes (or 1 qt water)
2 cups sugar (or Splenda for diet)
For 1 gallon pitcher (4 quarts)
4 Lipton Family size tea bags
2 quarts water
ice cubes (or 2 quarts water)
4 cups sugar (or Splenda for diet)
First you'll want to fill your teapot or a sauce pan with water. I use a teapot and don't really measure. If I am making a gallon pitcher, though, I fill the teapot all the way. Bring the water to a boil.
Next, pour the water in the pitcher. I usually fill it half, to a little more than halfway.
Add the teabags and let steep for about 7-8 minutes. Set the timer so you don't forget!
Using a spoon squeeze the teabags gently and discard.
Add sugar and stir. It is important to add the sugar at this stage because the hot tea helps the sugar dissolve. Otherwise, the sugar will just sink to the bottom. Stir until dissolved. We use splenda, trying to watch our figures...ha ha. Feel free to adjust the amount of sugar, but remember...it isn't "sweet tea" if it ain't sweet!
Next, add ice cubes to the pitcher to fill it the rest of the way up. Once you have added the ice stir it with a spoon until most of the ice cubes have melted.
Voila! Southern Sweet Tea! Pour it over a glass of ice and enjoy! Use a mason jar and close your eyes and you'll feel like your under the southern sun.