Tuesday, February 5, 2019
Well, I don't know about you, but it felt like there should be daffodils making their spring debut today. After the week we had last we with those arctic temperatures, this weather is a welcome relief. I'm trying not to get my hopes up too much, even though Punxsutawney Phil says spring will be here soon. If only this is what it felt like this past Saturday! My daughter's and I had tickets to see the newest show at the
Walnut Street Theater
, Goosebumps: Phantom of the Auditorium and were very excited to go. The only thing was, it was like the North Pole outside, so the thought of taking the subway down and walking five blocks was not that appealing. Even though I swore I'd never drive downtown after that last fiasco and my bouts of road rage, we decided it'd be better to drive down instead. I promised the girls I'd stay chill this time, and other than getting distracted by the freezing water on the side of the Sckuylkill Expressway (which was pretty spectacular) and nearly rear-ending the car in front of me, it was actually a pleasant drive. When we arrived at the parking garage a block down on Walnut, the price for daytime parking was not a high point. The last time I drove down, the evening rate was only $12 but for some reason, it is $27 during the day, a fact I didn't even realize until we went to pick up my car. My usual planning self let me down because I assumed it'd be the same price and didn't check the Best Parking app. It's my own fault. Who doesn't love throwing money out the window? Other than that, it was a great morning! We all got along and we made it there safely!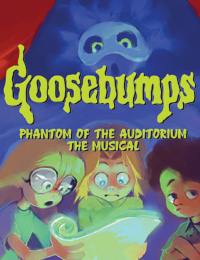 The girls and I arrived at the theater with plenty of time to spare and were seated upstairs again. This time, however, it was a little further up than the past two visits. Actually, we enjoyed these seats because we had an excellent view of all parts of the stage.
So far this season, I think Goosebumps may be my favorite play. As much as I loved Matilda and A Christmas Carol, it's not as much fun when you know exactly what's going to happen. Even though I do annoy my family with my usually accurate predictions, which didn't fail me this time, not knowing the plot made the experience a lot more exciting. From the opening song to the show's closing, the six-member cast had me hooked. Honestly, we were singing the Goosebumps songs after we were out of the theater and even Google searched videos on YouTube trying to find it again. I know when my kids are looking up songs from movies or shows they've seen, they actually really enjoyed it! Goosebumps: Phantom of the Auditorium delivered exactly what my family hoped for. There was only a 'little' bit of scary and a lot of silliness. The play is based on a book by R.L. Stein, a famous children's author. You can read the full synopsis on the Walnut Street Theater page, but the play is about a pair of best friends who are starring in a play that may be cursed. There may or may not be a phantom and may or may not be the tiniest bit scary (but not really)!
The show is only running from now until February 10th, so don't wait! Get your tickets now! Overall, our family really enjoyed ourselves. What I love about the children's series at Walnut Street Theater is the fact that the plays only last about an hour, with no intermission. It really is the perfect little family outing. The play was adorable and was the perfect length for younger children.
Next time, I'll just do my parking research so I get the best deal.
Disclaimer:
Though I received tickets to the production at no cost, all opinions are my own.
Saturday, January 19, 2019
*Updated 6/2/19*
Okay, so I took the plunge and jumped on the Rothy's Bandwagon! I'm here to give you an honest review about how I feel about these popular shoes. About a year or so ago, I started seeing two different types of shoes all over my social media accounts. I don't know if it's because I searched 'teacher styles' and then the analytics made them appear more often, or they were just becoming really popular. Either way, I began to notice them and became curious. Tieks was the first brand I noticed, followed by Rothy's. Now, the portability of Tieks intrigued me, and I loved the teal bottoms, but I still wasn't a fan of the style. I don't love the rounded toe and the elastic look of the top.I know, I know. Some people SWEAR by them, but that's just my personal preference. Rothy's were always appealing in their style. However, when I first looked at the price tag on either type of shoe I shot both down really quickly and went into my mental file for "one day."
Flash forward to last summer...and finally feeling settled in my my job as a 6th grade teacher, I knew I needed to start investing in shoes that were comfortable for long days on my feet, while also making me feel stylish. For some people, feeling cute isn't that important, but I know I'm in a better mood if I feel put together. So it's a win-win for me, my family, AND my students if I enjoy what I'm wearing. No-brainer! I began to research both Tieks and Rothy's. From YouTube reviews to Buzzfeed and bloggers. I read all the good and bad and finally was convinced. I. Needed. Rothy's. Now, four pair deep, I'm ready to write an honest review. Okay, so first and foremost, Rothy's are
ECO-FRIENDLY
The Sneaker
Finally, I decided to try the sneakers. As per many Rothy's wearer's suggestions, I ordered my regular size. For me, they were a perfect fit! For my sister-in-law, she had to go up a half a size. It really seems to depend on the person. Everyone's feet are different. At first, I though they might be a little too tight. The black sneakers were my first pair. I have a high instep, so the first day they seemed to be pretty on the top of my foot. The also pinched my pinkie toes by the end of the day. I wasn't wearing socks, though. Even still, I didn't have any blisters, so it didn't prevent me from wearing them again. The next time I wore them, I wore them with no show socks. By the end of a full day on my feet, my toes didn't hurt like they did before. I have the same problem with my pinkie toes whenever I wear Vans or Converse, too. So, after that day of no problems, I tried to wear them without socks again. Well, again my toes hurt by the end of the day. From then on, I just wear no show socks and haven't had any problem. I even went an entire school day wearing them to going ax throwing and staying out pretty late. By the time I got home, I still didn't have any pain. After a couple weeks of wearing my black sneakers, I decided I wanted to get the white ones. When they arrived, that same problem with the tightness of the instep happened. That made me think that maybe these shoes are different from their other styles, due to the nature of the design. So, I grabbed my black ones and tried them on to compare. I couldn't believe how much more comfortable they were! So basically, what I'm saying is, there is definitely a short break-in period for the sneakers. If you wear socks, you probably won't have much of a problem. However, do understand that they will stretch a little and eventually conform to your foot. I probably wear my sneakers even more than my points. Never thought that would happen! I even wore my black ones to our school's field day! (Not the greatest shoes for tug-of-war...just saying. Next time I'll wear shoes with laces lol. That's an intense event!)
Oh, and BTW...I have washed those white shoes and they have come out looking brand new! I did use a scrub brush on the soles with some soap, but they still look white! Even had someone step on them in mud and just used a washcloth with soap and it came right out without even having to use the washing machine!
THEY ARE WASHABLE!
PRICE & REFERRAL PROGRAM
I will be 100% honest with you. These shoes are more than I ever thought I'd spend. My typical dollar amount for flats was about $40-$60. Sometimes more, sometimes less. That being said, My feet never thank me. Those shoes don't last as long as Rothy's. And when you compare Rothy's to flats like Jimmy Choos at $400-$700 a pair, these are a steal! PLUS, Rothy's has a referral program where you get $20 off whenever you refer someone to buy their first pair. You get your own special link that will give THEM $20 off AND YOU get $20 off. What's even BETTER is that they now let you stack the codes, For example, if you refer three people, you'll get $60 off your next order!
EXCELLENT CUSTOMER SERVICE
FINAL ASSESSMENT
My dad thinks I'm a nut
If you're looking for inexpensive no shoe socks, I get mine from Target. Also I put Odor Eaters Soft and Slim over top of the insoles so then I don't even have to wear socks with my points! Just trip to fit!