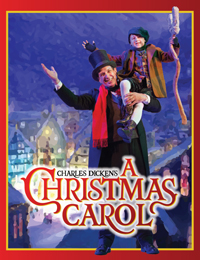 Happy Sunday, Everyone! It's the happiest time of the year, and of course, with that comes the never ending availability of holiday productions. I look forward to this time of year because I set my DVR to record ALL the Hallmark Christmas movies and my poor husband gets the privilege of watching them with me! Isn't he lucky? I love a happy ending! Well, you can imagine how excited I was when I got tickets to see A Christmas Carol downtown at the Walnut Street Theater! First, I know the story, because who hasn't seen probably 10 renditions of the beloved classic? Even though I've read several of Dickens' classics, from A Tale of Two Cities to David Copperfield, Dickens is one of my favorite authors of classic novels; and even though I have seen A Christmas Carol in movie or TV form, I have never seen it performed live on stage!
So, when I told my daughters that we were going downtown again, they were pretty pumped! (As long as Mommy did drive down lol) This time, we decided to take the subway from Fern Rock Station down to the Walnut-Locust stop. It was about a five block walk to the theater, and even though it was chilly, the sun was out and it was a lovely afternoon! We arrived at the theater and found our seats right away, with a little time to spare this time. We were in the Mezzanine section on the right and we had no obstructions. Our view was perfect! Of course, as you know from the last review, I love the Walnut Street Theater and its history! I can image the stars from the past walking across that stage and could just spend forever looking at all the old photos in the lobby.
View from our seats
The show was wonderful! Benjamin Lovell, who plays Ebenezer Scrooge was just the character you love to hate. With the help of the ghosts of past, present, and future, he turns over a new leaf and loses his grinchiness, if that's even a word. You leave the theater happy that Ebenezer's fate is going to turn out alright. And with all the negativity in the world today, believing there is good in others, no matter how 'ugly' they can be, gives us hope. My fifteen year old thoroughly enjoyed the play as did I. My only concern, though, was that the dialogue was still in the Dickens format. Since it was geared towards children, I was worried that my two younger ones might not understand what was happening, and so I asked them afterwards. Yep, they were a bit confused at the language. They enjoyed themselves, but I had to explain some of the story to them. The part where Marley's ghost shows up in the door knocker also caused a little crying in the theater, but it was very short and that was the scariest part.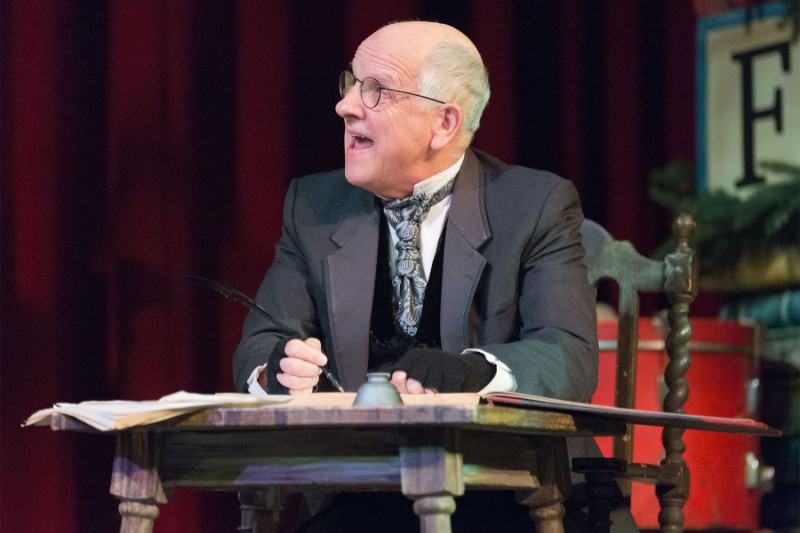 Benjamin Lovell (Scrooge)
Overall, I wouldn't mind making this a Christmas tradition. Maybe next time, we'll stop in to see the Dickens Village over at Macy's. Philly at this time of year is a fun place to go for the holidays. When we walked to City Hall, there were shop tents set up and I completely forgot about the ice skating rink set up there! I would've let the girls go skating, but one of the girls wasn't feeling so great, so we got some hot chocolate (and a cookie from the 4th Street Cookie Co dipped in chocolate) and headed to the subway. They had a great time and it was a fantastic way to kick of this holiday season!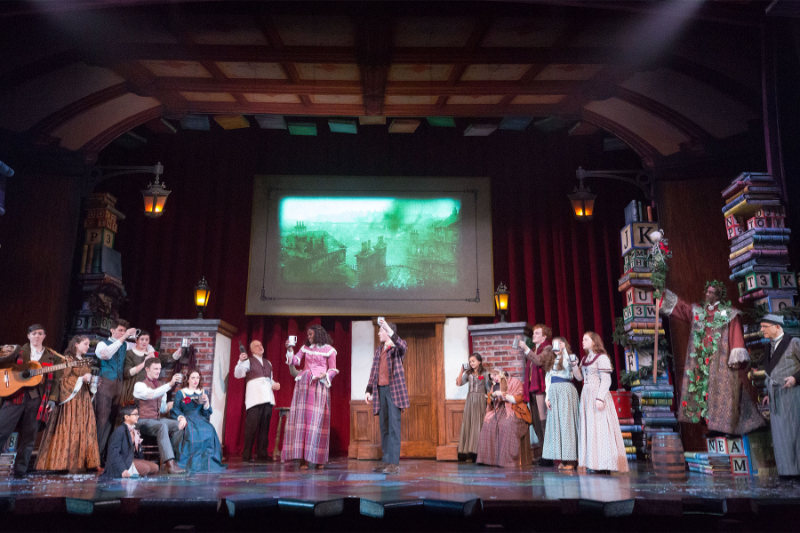 Disclaimer:
Though I received tickets to the production at no cost, all opinions are my own.
Of course, I wore my favorite, most comfortable, yet sustainable, shoes...Rothy's in Mocha Spot. Kept my feet comfy all day!